Special recommandation !
Intermediate Shaft Bearing IMS in engines since 1998 - PORSCHE
Update on May 22nd, 2018
The problem is that this bearing is not lubricated, and its dimensions are too small. The bearing's dimensions had been increased during the years and it has gotten more and more reliable generation by generation. But the main issue remained its non-lubrication that can lead to its degradation. The bearing will not wear slowly… It risks seizing up suddenly because of the complete lack of lubrication and from here, it is going to disintegrate in a few hundred or thousand kilometers. So that explains the impossibility to control and predict the breaking of the engine when dismantling or revising it. Some say that 25% of the production is affected. That would apply to the first generations of the M96 engine and that number would significantly decrease with the succession of improvements.
The everyday things to do to prevent or delay the bearing destruction:
Using the car often will help preventing the bearing seizure.
Not driving under 2500 rpm to prevent strong tensions on the shaft and on the bearing itself.
Analyzing the oil after a change to detect any unwanted swarf. But the phenomenon is often so unpredictable that it doesn't guarantee that the IMS can resist until the next oil change. But if there is shaft in the oil you need to stop driving the vehicle immediately!
Not being afraid to buy a high mileage car. The cars with more than 120 000 km are often considered safe because the bearings usually brake before that. Why is that? Because if the bearing holds up to here, it is that it often finds itself lubricated by internal oil leaks which is going to greatly expand its lifespan. That is also why it is important to be attentive of the IMS bearing when changing engine seals. This operation could stop a beneficial lubrication.
What to do in case of breakage?
Engine change or total rehabilitation of the bloc (depending on the Porsche model, from 8 000 CHF to approximately 17 500 CHF for a completely refurbished engine by an independent).
Models concerned by the wear problem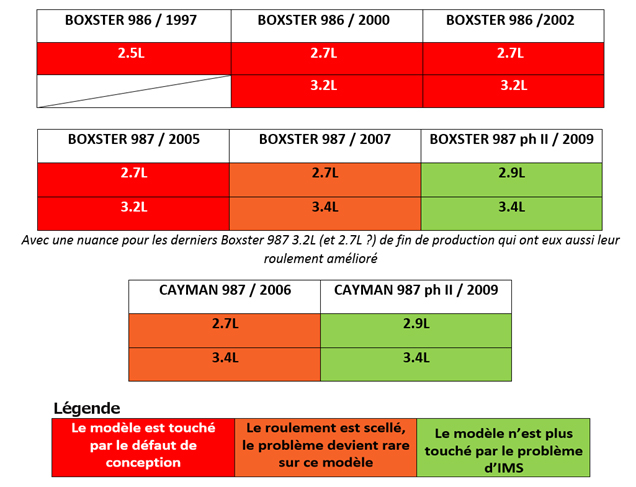 911 type 996 : Every model is concerned excepted turbo and GT3.
911 type 997 : Every phase I model excepted turbo and GT2/3
Problem solved on the 997 phase II. Because there are no more intermediate camshafts on new models. The distribution chains are directly driven by the crankshaft.
ONLY THE MODELS HIGHLIGHTED IN RED AND ORANGE CAN BE MADE RELIABLE WITH A BEARING REPLACEMENT AND A CASE MODIFICATION.
The sealed bearing of the orange highlighted models is generally more reliable, the breaking phenomenon becomes rarer. But the problem is entirely solved with an IMS roll bearing lubricated by the engine oil.
Shaft Bearing IMS diagram
Shaft Bearing IMS details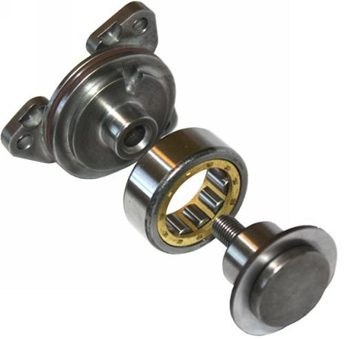 Shaft Bearing IMS in the intermediate shaft
Comparison of a used and new IMS bearing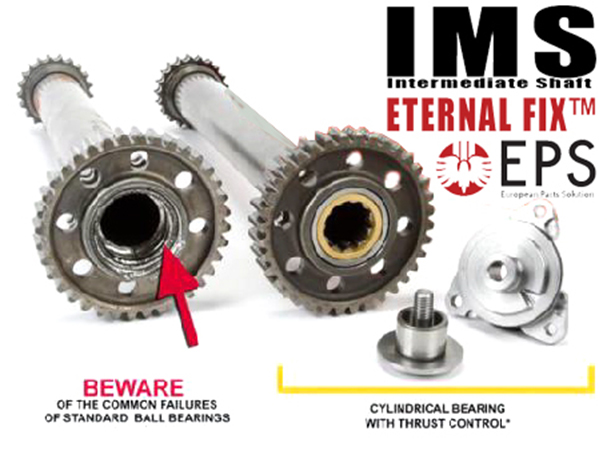 Opt for a pro shaft Bearing IMS